BluStar™ for iPad & iPhone
Aastra BluStar™ for iPad & iPhone enables high quality video and voice calling from an intuitively easy to use application, providing natural communication options for mobile users.
Today's workers are increasingly mobile, either traveling outside of the enterprise or moving about on campus. With BluStar, mobile users don't have to give up the convenience of natural collaboration that video calling brings. Aastra BluStar™ for iPad/iPhone Apps provide peer-to-peer video communication over a data network connection and are fully integrated with Aastra's communication servers and the BluStar Application Server (BAS). The Apps are also available for use with third party communication platforms.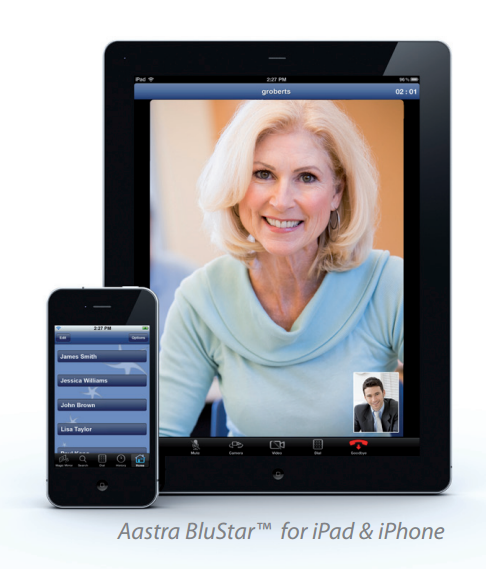 BluStar Takes Business Communications to a New Level
Intuitive Communication from your Tablet or Smartphone
BluStar for iPad/iPhone is at the cutting edge of communication technologies enabling audio and video communication from the device of choice, providing true mobility for BluStar users. Aastra's in-depth understanding of both IP telephony platforms and collaboration tools for the enterprise market has given the Apps their unique character. With video technology maturing and video becoming a mainstream form of communication today, the evolution to video in the workplace is becoming a natural continuity in enterprise development. The Apps' intuitive user interface facilitates ease of use and helps users work together more effectively – for example, on demand video communication with remote workers, road warriors and office based teams working on the same project. The Apps have been designed for peer-to-peer communication and avoid complex options and configuration settings providing mobile users the right level of information and communication preferences that are simple to use based on the device of choice.
BluStar Ecosystem
The BluStar for iPad/iPhone Apps are an essential part of Aastra's Unified Communication & Collaboration (UCC) portfolio – the BluStar Ecosystem. BluStar takes business communications to a new level across a choice of devices, providing a consistent user experience by using video as the key mode of communication. BluStar productivity enhancing tools provide more choice and flexibility to answer the increasingly diverse communication needs of today's modern enterprise. As a BluStar user it is possible to use video across all BluStar devices connected to the same communication server.
SIP Endpoint Connected Directly to the Platform
The BluStar for iPad/iPhone Apps are SIP user agents that connect directly to the communication server or BAS. Signaling and media transmission rely on the device having data connectivity through either a public or private IP network. At start up, the Apps register with the communication server or BAS using SIP. During the registration process, the Apps are allocated a user licence on the communication server or BAS. Media transmission (RTP) between the Apps and the terminating end point is routed directly between endpoints. All signaling communication and negotiations (SIP-based) between the Apps and other users is routed via the communication server or BAS.