Keeping employees connected and productive – anytime, anywhere, on any device
Key Features
• UC clients for desktop, mobile devices and web
• Rich, real-time presence information
• Dynamic call routing
• Collaborative experience with desktop & document sharing
• Simplified voice message retrieval
• Secure Instant Messaging (IM) with file transfer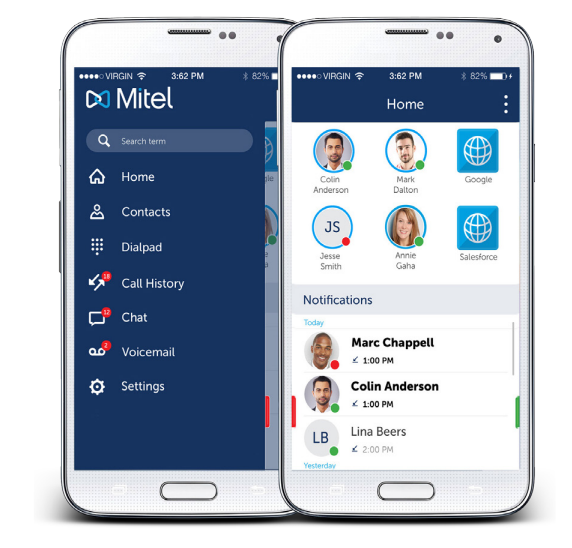 Optimized for the mobile workforce, MiCollab enables access to secure and reliable collaboration and messaging tools, providing a consistent collaboration experience from any device – regardless of location.
MiCollab provides the essential mix of tools that helps
connect employees together from anywhere, on any
device, at any time allowing for spontaneous or planned
communications and collaborations. Whether it is instant
messaging, voice, desktop video, or web collaboration,
employees are able to choose the method that works best
given the reasons for meeting, the people involved, and
their current location.
MiCollab's web-based management console provides a
single view of the entire solution that can be accessed from
anywhere or through integration with Active Directory.
MiCollab supports a range of deployment options
including software only for deployment on industry
standard servers, as a virtual machine on VMware®
vSphere® or Hyper-V, and as software pre-integrated
on a business-class, rack-mounted server1.
When deployed within a VMware environment MiCollab
can be managed through VMware vCenter™ management
tools, providing resource efficiencies and a single business
continuity plan across all of your business applications.
MiCollab integrates with and provides enhanced
communications and collaboration functionality to leading
business applications, including Microsoft Outlook, Google
Mail and IBM Lotus Notes.