The core component in the Mitel MiVoice MX-ONE Solution
Highlights
• SIP-based multimedia platform
• Scalable from 100 to 500,000 users
• Flexible licensing: A la carte or feature-based
• On-premise or cloud-based deployment options
• 64-bit architecture with native support for IPv6
• Complete range of fixed and mobile end-user devices
• Single point of entry for system management
MiVoice MX-ONE provides powerful communication and collaboration anywhere, over any medium, on the end-user's preferred device.
MX-ONE is a complete SIP-based communications system with the underlying architecture for unifying services like instant messaging, presence, voice, video conferencing and collaboration. The MX-ONE is built upon an open design, allowing for flexible and future-proof deployment. The same wide range of services and features are available from on-premise or in the cloud deployments of the MX-ONE solution.
Open System with a Single Point of Entry Based on open software and hardware environments, the MX-ONE uses standard servers with a Linux SUSE operating system. MX-ONE enhances SIP implementations to support openness, cloud computing and high-definition video. Organisations can also gain efficiency with its single-point-of-entry for system management.
Building Blocks MX-ONE consists of three basic components: MX-ONE Service Node (SIP-based communications server), MX-ONE Media Server (software-based media gateway) and MX-ONE Manager Suite. Optionally, one or more MX-ONE chassis with embedded hardware-based media gateways can be added to enable access to traditional PSTN networks, and provide support for connection of legacy devices.
MX-ONE SERVICE NODE OPTIONS The high-capacity MX-ONE Service Node communication server software—either virtualized or running on a standard server platform—can handle up to 15,000 SIP users and 15 media gateways in a single server configuration. Multiple MX-ONE Service Nodes and media gateways can be combined to form a single logical system and deployed either as a large centralized system or as a distributed system with many servers and media gateways spread over a geographically dispersed area. This architecture enables the MiVoice MX-ONE solution to scale from 100 users to several hundred thousand users in a single system.
MX-ONE SERVICE NODE AS A "SOFTWARE-ONLY" MX-ONE Service Node, as a "software-only" option, is available with media kits for standard Intel© servers or as virtual appliance for VMware environments. The MX-ONE Service Node, as well as MX-ONE Media Server software can be installed on the same server or Virtual Machine. The VMware-based software option is a perfect solution for organizations looking to move to a private cloudbased architecture.
TURN-KEY SERVER SOLUTION The MX-ONE Service Node and MX-ONE Media Server software can be delivered in a turn-key server solution based on Dell PowerEdge R320 servers. Both the Linux operating system and Service Node application software are installed and pre-configured.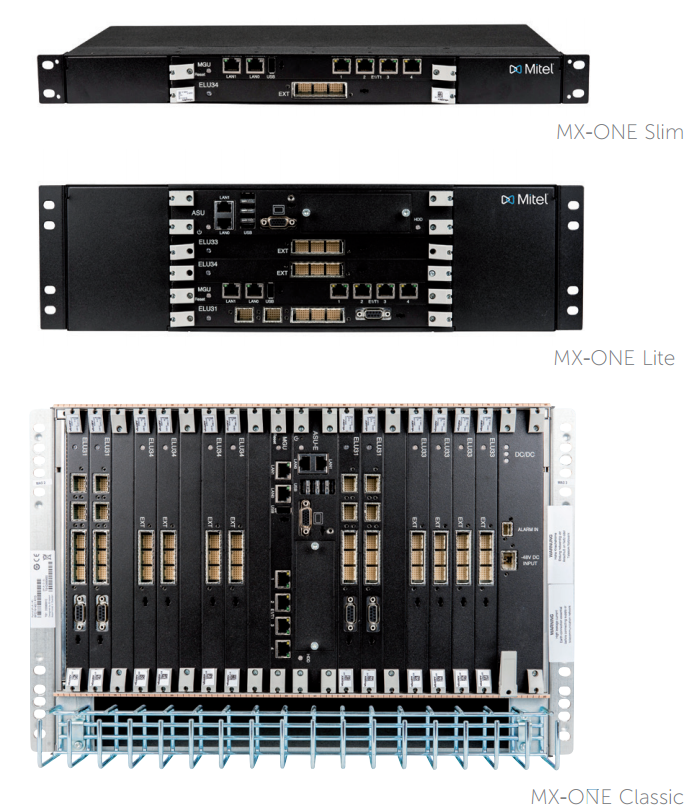 MX-ONE CHASSIS WITH EMBEDDED MGU
MX-ONE Slim – 1U chassis, containing one MGU2 board, is the choice for pure IP environments. There is also room for one additional extension board.
MX-ONE Lite – 3U chassis, more suitable for IP environments and branch office scenarios with the space for one MGU2 board, one ASU, plus three or five TDM boards, depending on whether an external server is used or not.
MX-ONE Classic – 7U chassis, fitted with an MGU2 board, targets mainly mixed environments with space for up to 16 legacy boards.
Main Functionality
POWERFUL RANGE OF FEATURES
• Support for the full range of SIP multimedia desktop terminals and soft phones, as well as IP phones, Mobile Extension, Wi-Fi, DECT/SIP DECT, analog and digital phones
• Support for the whole family of UCC multimedia endpoints. Services offered include a mixture of voice, video, instant messaging and presence information
• Over 500 system and end-user features, including multi-device support for SIP users, free-seating across networked systems, and Mobile Extension for native FMC integration, addressing a wide range of vertical segments and customer scenarios
• System-based services, such as SIP- and QSIGbased networking, with full feature transparency, routing, number analysis, call information logging, CSTA Phase III and a wide range of applications
• Pre-configured SIP trunk profiles, enabling integration and certification from a variety of service providers worldwide
• Full range of public trunk interfaces, including ISDN, CAS/MFC, DPNSS and analog trunks
---
MIVOICE MX-ONE REDUNDANCY OPTIONS
SERVER REDUNDANCY MX-ONE Service Node redundancy uses the n+1 redundancy technique: If an active server fails, the back-up server starts with its copy of the failed server's data. Alias IP addressing is used, so clients and remaining server(s) can continue to use their configured IP addresses.
NETWORK REDUNDANCY
By Network Interface Card (NIC) bonding, two or more Ethernet interfaces look like one logical interface to the MX-ONE Service Node and Media Gateways, all to improve availability and performance. This method allows the MX-ONE to offer a higher level of reliability. When one network interface or switch fails, the other one takes over without affecting service.
HLR/VLR REDUNDANCY IP/SIP
extension implementation in MX-ONE Service Node is designed in accordance with the HLR/VLR (Home/Virtual Location Register) architecture used in mobile networks. An IP user has a "home server", HLR, but it can be handled by any server in the system by creating a VLR through synchronization of the user data between LDAP databases in all servers. If that home server fails, the gatekeeper/SIP proxy database redundancy feature creates a back-up HLR on another server in the system to allow the IP user to continue to operate.
ENHANCED REDUNDANCY USING VMWARE OPTIONS
The failover time can be reduced by using VMware´s High Availability (HA) option. Furthermore, MiVoice MXONE fully supports VMware's Fault Tolerance (HA/FT) option, enabling complete hot standby capability for the communications server.
---
UC APPLICATION INTEGRATION
CSTA III/XML INTERFACE
MiVoice MX-ONE supports the Computer Supported Telecommunications Applications Version 3 or CSTA III/XML interface, which provides CTI call control and monitoring with Mitel UCC applications as well as certified third-party applications.

MICROSOFT CERTIFICATION
MiVoice MX-ONE has completed the Direct SIP certification from Microsoft to enable integration with Microsoft Lync 2013 as well as Microsoft Exchange Server 2013 UM, providing end-user services like voice mail and auto attendant.
VIRTUALIZATION 
It is possible to run the MX-ONE Service Node, MXONE Media Server and Mitel's UCC applications as virtual machines in a customer VMware environment. This enables IT departments to integrate their real-time communications-as-a-service in the cloud. Based on virtualization, cloud services or SaaS eliminate the need for organizations to build or buy the IT infrastructure themselves. The consolidation of server hardware through virtualization reduces the server footprint, offering lower power consumption and cooling requirements as well as decreased physical space requirements. Virtualization also enables high availability options that can provide increased resiliency for real time applications.
Currently, MiVoice MX-ONE uses VMware software as part of its virtualization solution. Mitel has verified complete solutions, including MX-ONE Service Node software, MX-ONE Media Server, as well as Mitel UCC applications (e.g., Mitel CMG collaboration management suite, Mitel Solidus eCare contact center, and Mitel OneBox unified messaging) running as virtual machines.