A feature-rich client delivering high-quality audio and HD video
Key Features
• Intuitive interface facilitates ease of use
• SIP softphone for high-quality voice communications
• Hard phone control (CTI) for voice communication
• Powerful audio processing
• HD video communications
• Up to four-party video conferencing
Mitel BluStar™ for PC delivers high-quality audio, HD video and access to a set of Unified Communications & Collaboration (UCC ) features from a single client on the desktop. The client is directly integrated with the communication server.
The user friendly client unifies voice communications with video, presence information, instant messaging, directory look-up, flexible search options, journaling as well as three-party audio conferencing. The direct integration with the Mitel communication servers provides the benefits of reduced cost and infrastructure complexity and secures high performance call functionality. BluStar for PC is a powerful UCC client for Windows-based PCs.
Mitel BluStar Takes Business Communications to a New Level
INTUITIVE COMMUNICATION DIRECTLY FROM THE DESKTOP
BluStar for PC is at the cutting edge of communication technologies enabling audio and video communications from the desktop, accessible from anywhere. The client's intuitive user interface facilitates ease of use and is designed to connect people in the best way, depending on their working needs. It helps users work together more effectively. For example, on-the-fly video communication with remote workers, road-warriors and teams working on the same project.
The client provides the user with the right information and communication options at the right time. The combination of icon tabs and context sensitive options captures the client's simplicity and it is easy to toggle between tabs and features. The client is based on open standards.
MITEL BLUSTAR ECOSYSTEM
The BluStar for PC client is an essential part of Mitel's UCC portfolio – the BluStar Ecosystem. BluStar takes business communications to a new level across a choice of devices, providing consistent user experience by using video as the key driver.
The BluStar productivity enhancing tools provide more choice and flexibility to answer the increasingly diverse communication needs of today's modern enterprise. As a BluStar member it is possible to use video across all BluStar end-points connected to the same communication server.
Features & Benefits
KEY FEATURES
• Intuitive interface facilitates ease of use
• SIP softphone for high-quality voice communications
• Hard phone control (CTI) for voice communication
• Powerful audio processing – echo cancellation, automatic gain control, supported codecs: G.711, G.722
• HD video communications – H.264
• Up to four-party video conferencing with BluStar 8000i or BluStar for Conference Room as anchor device
• Instant messaging
• Video based application share
• Contact integration – AD, LDAP, personal Outlook contacts and Mitel CMG
• Callto links support and Hotkey dialing
• Session Border Controller (SBC) support – enabling remote access
• Microsoft Lync and Microsoft Office Integration
• Call control integration with Jabra and Plantronics headset
4-PARTY VIDEO CONFERENCING
BluStar for PC gives the user the option to join ad hoc four-party conferences hosted by a BluStar 8000i or by a BluStar for Conference Room device.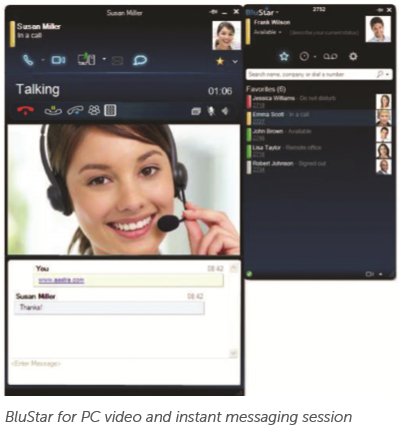 INSTANT MESSAGING
In addition to voice and video communication the user can communicate with other BluStar for PC client via instant messaging. Text can be copied from the message log to the Windows clipboard and vice versa. The instant messaging feature supports common emotion icons and URL links.
MITEL BLUSTAR SERVER
The Mitel BluStar Server is providing centralized services and interfaces for the entire BluStar Ecosystem. The BluStar Server will aggregate presence information from diff erent sources and provide them to all subscribed BluStar components and clients.
Integrated with all BluStar devices like the BluStar 8000i Desktop Media phone, BluStar for iPhone and BluStar for iPad, as well as BluStar for PC, BluStar for Conference Room, BluStar Server facilitates collaboration between mobile, remote and headquarters' employees through presence awareness.
Utilizing the CTI Server part of the BluStar Server BluStar for PC can switch between soft phone mode and control of desk phone for voice calls.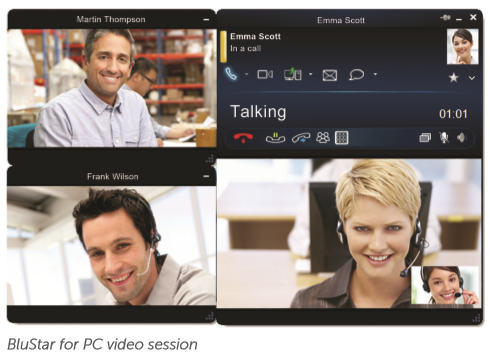 THE SAME FEATURES ACCESSIBLE FROM ANYWHERE
By unifying all communication needs into one single client the user can choose their preferred communication method depending on the situation, even remotely outside the corporate network through a VPN or the Session Border Controller (SBC). With the BluStar for PC client the user can easily be on the move (requires SBC and/or VPN) and still experience the same functionality, e.g. voice, video and instant messaging, in a cost-eff ective way. In addition, the directory is always accessible, even when the user is offline (local cache feature).
PRESENCE INFORMATION AND DIRECTORY CONSOLIDATION
BluStar for PC helps to increase productivity significantly by providing the user with rich information about other user's presence status. Before placing a call, you can see the presence status, line state and calendar information of all other online users. With the BluStar presence feature, you can easily control your own communication status.
HIGH-QUALITY COMMUNICATIONS
The BluStar for PC is configurable to meet the user 's personal needs, e.g. set ring signals or device for outgoing calls. To place a call is intuitive and can be done in several ways, e.g. by using the directory, typing or by clicking on a hyperlink in an e-mail or a web page to initiate a call.
Incoming calls are indicated by a ring signal and a call alert dialog that appears in front of other applications. If the contact person is listed in the directory, the caller ID with name and photo will be shown in the call alert dialog.
• Three-party conference calls
• Parallel ringing
• Sending DTMF – SIP Info /RFC 2833
PRESENCE INFORMATION
The client provides an easy to use interface to set user presence as well as presenting presence states of favorites and contacts. This functionality requires the BluStar Server.
• View BluStar users' presence status
• Set and present personal presence (Available, Busy, Do Not Disturb)
• Line State – SIP, Analog, Digital and BluStar endpoints
• Outlook/Exchange calendar presence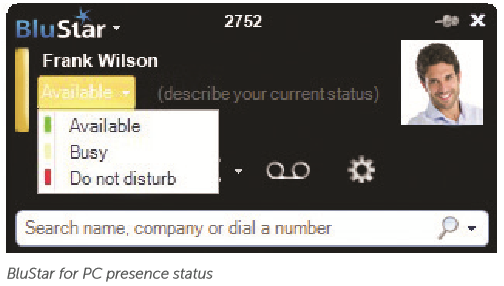 MANAGING CONTACTS
Contacts can be added (from the directory or manually entered) to a personal favorites list. The contacts can be displayed with name, number and photo. The contacts in the list can also be arranged in groups. One contact can be a member of several groups. Additional contact information is visible in an extended contact card.
• Favorite list
• Grouping of favorite contacts
• Contact card
• E-mail initializing
DIRECTORY SEARCH & JOURNALING
The BluStar for PC can be integrated with directories using LDAP or MAPI. The search feature is progressive and displays the results in the contact list as characters are entered, the search results are narrowed and highlighted.
By selecting the Conversation History tab, the call log is listed. Missed calls and waiting voice mails are displayed by an alert badge (a number or exclamation mark) next to the corresponding tab. The Device tab is used to control the audio settings.
• Progressive directory search
• Local cache search
• Search result highlights
• Call log (all media)
• Notifications and alerts for missed calls and voicemails
APPLICATION SHARE
Beyond other communication methods BluStar for PC provides an easy way to share information with other parties. By pressing the share button during a voice or video softphone call you can easily select either your Desktop or any active application to be displayed to the other participants via video stream.
HD VIDEO COMMUNICATION
BluStar for PC provides the user with HD video directly from the desktop, even remotely outside the corporate network. Preferred communication method can easily be chosen by selecting call/answer or video call/answer by incoming or outgoing calls. With the UCC client, video is only a mouse click away and the user can effectively communicate across all BluStar Ecosystem devices connected to the same communication server. The BluStar video capability also contributes to considerable savings on costs. All media handling is utilized by the communication server.
OPENNESS FOR EASY INTEGRATION
The open standards of the BluStar for PC allow for interoperability e.g. with Microsoft Lync or Microsoft Office. With the BluStar for PC embedded into these clients, all call control comes from BluStar.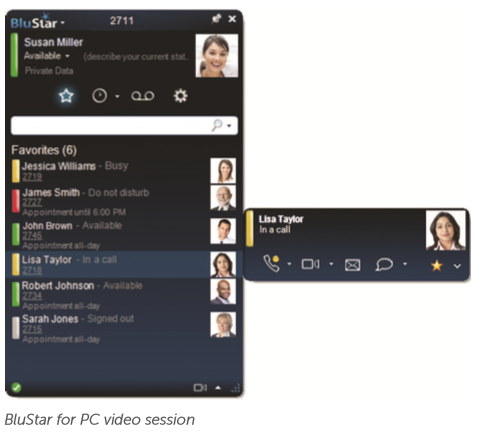 Video in the workplace is becoming a natural component in enterprise communication.