Dialog 4000 Digital Telephones
Dialog 4000 digital telephones combine excellent sound quality and outstanding features with superior ergonomics. Users also benefit from built-in acoustic shock protection and hearing-impaired support.
Environmentally sound design has been a cornerstone in developing the Dialog 4000. All phones support software downloading for remote upgrades and easy maintenance.
The Dialog 4000 generation of telephones leads the way into the future for enterprise communications.
Dialog 4220 Lite
This compact, cost-effective model offers all basic functions for office
communication needs. The Dialog 4220 Lite is especially designed
for users who want traditional telephone functions with good voice
quality. It is a robust convenient phone well-suited for visitor or service
areas. Like all other Dialog 4000 phones, it can be wall-mounted and
features a loudspeaker for voice monitoring.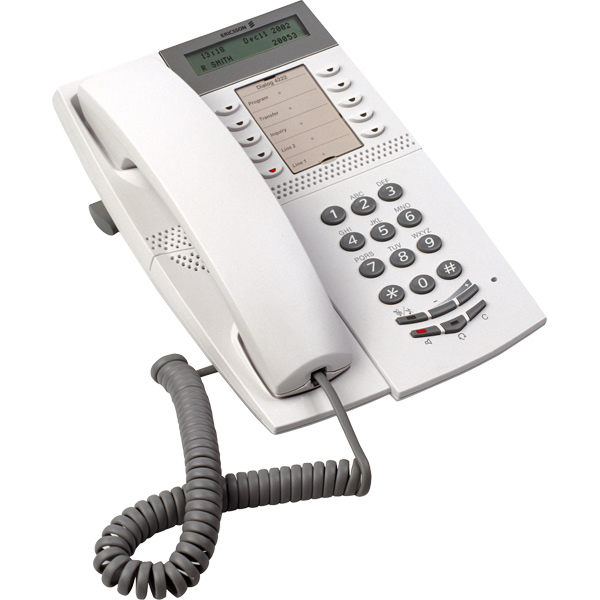 Dialog 4222 Office
The Dialog 4222 Office is a desktop telephone with full functionality
for office communication needs. It is userfriendly and equipped with
a hands-free speaking function as well as an integrated headset port
and a dedicated headset key. The telephone features a graphical
two-row display for relevant information such as the called or calling
party's extension number and the time and date. With its "landing
gear struts", users can adjust the phone to different lighting situations.
Programmable keys enable fast access to specific numbers or services.
An extra key panel and an optional unit for external equipment can be
easily connected
Dialog 4224 Operator*
The Dialog 4224 Operator terminal is a compact and cost-effective
alternative for smaller organizations, such as departments or small
remote offices. The terminal is the same size as the Dialog 4225
digital telephone with a large, six-row graphical backlit display and a
conventional numeric keypad. The keys that are most frequently used
have been enlarged. Such ergonomic design combined with advanced
operator functionality and ease-of-use, makes this terminal the perfect
choice for the small office.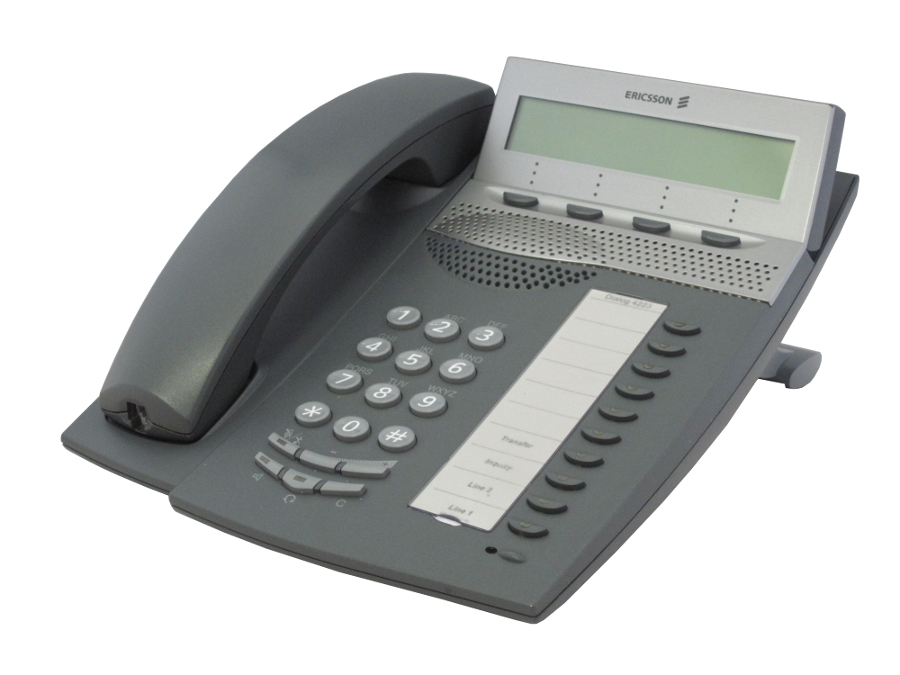 Dialog 4223 Professional
This multi-featured model supports advanced system functions
for professional office users. The Dialog 4223 Professional is ideal
for administrative workers and traditional call center (ACD) agents.
With its "landing gear struts" and a three-row, adjustable, graphical
display, users can adjust the phone for all environments and lighting
situations.
Using softkeys, users can easily access the display menu with a number
of system features such as a phonebook, call list, diversion, absence
reason, etc. Programmable keys enable fast access to specific numbers
or services. A high quality, hands-free speaking function offering full
duplex and Acoustic Echo Canceling (AEC) makes this phone wellsuited
for telephone meetings. A headset can be connected directly
to the integrated headset port. Toggling between the handset and
headset is controlled by a dedicated key. Additionally, up to four extra
key panels and an optional unit for external equipment can be easily
connected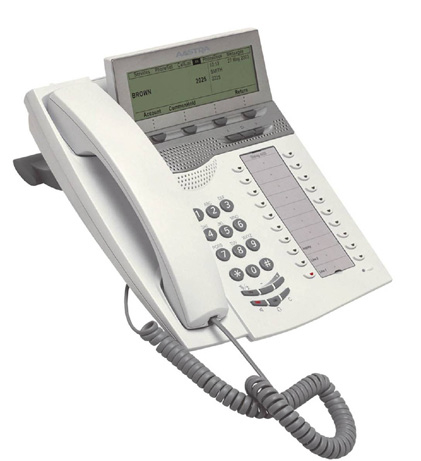 Dialog 4225 Vision
This multi-featured, top-of-the-line model supports advanced system
functions. The Dialog 4225 Vision is ideal for demanding and executive
office usage. Compared to the
Dialog 4223, this telephone features 10 extra programmable keys
and a large, six-row, backlit graphical display with three navigation
keys and four softkeys. Using the navigation keys in combination
with softkeys, users can easily access a display menu with a number
of system features such as a phonebook, call list, diversion, absence
reason, etc.
An extra high quality hands-free speaking function offering full duplex
and Acoustic Echo Canceling (AEC) makes this phone very well-suited
for telephone meetings, as well as for conference calls in small meeting
rooms.
A headset can be connected directly to the integrated headset
port. Toggling between the handset and headset is controlled by
a dedicated key. Additionally, up to four extra key panels and an
optional unit for external equipment can be easily connected